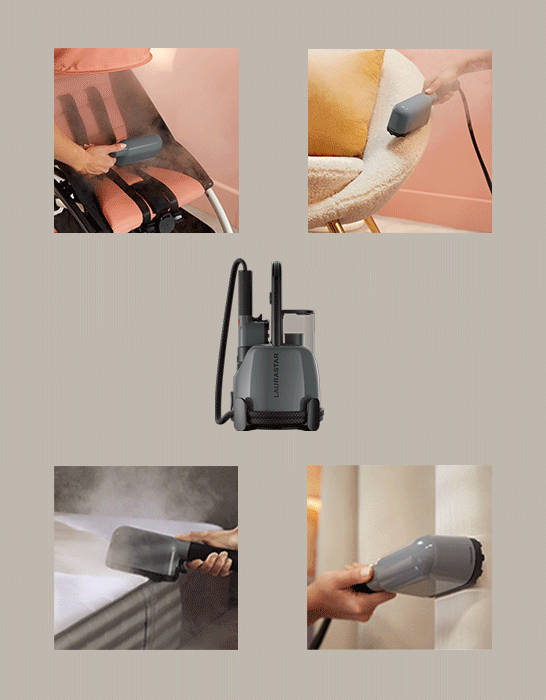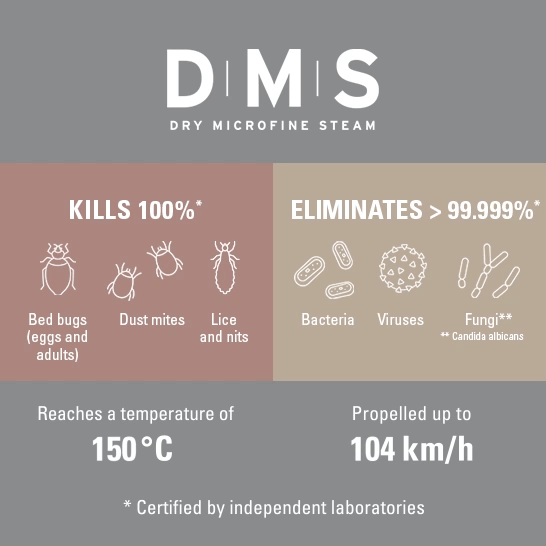 THE DIFFERENT ROOMS THAT IZZI CAN DISINFECT
All rooms in your house can benefit from IZZI, stripping them of their harmful microorganisms as well as allergens and unpleasant odours. From the bedroom to the baby's room, through to the kitchen, the bathroom, the hallway and the living room: each and every room must be regularly disinfected so you can benefit from a healthy environment. Thanks to its large water tank that works with tap water and which can be refilled during use, IZZI has unlimited autonomy, allowing you to disinfect several rooms one after the other. Unique results, outstanding quality!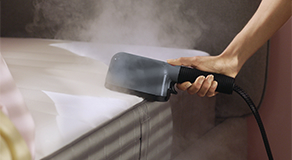 The bedroom
IZZI disinfects mattresses, pillows, clothes, door, furniture and window handles, and all bedroom surfaces, objects and fabrics.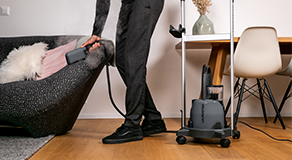 The living room
IZZI disinfects the sofa, cushions, tables, door, furniture and window handles, curtains, and all living room objects and surfaces.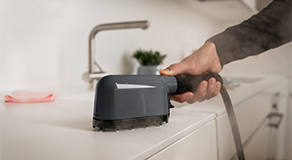 The kitchen
IZZI disinfects countertops, the hob, taps, wooden chopping boards, tea towels and all kitchen fabrics.

The bathroom
IZZI disinfects shelves, furniture surfaces, taps, door or cupboard handles, the shower walls and all bathroom fabrics.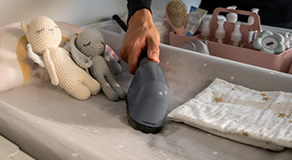 The baby's room
IZZI disinfects comforters, clothes, changing tables, toys, diaper bags and any additional baby equipment.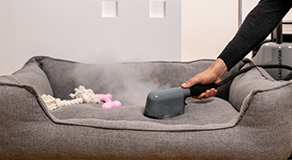 The hallway
IZZI disinfects door handles, clothing on the coat rack, pushchairs, shoes, animal baskets and any other item that may be found in a hallway.
WHICH SURFACES CAN YOU USE IZZI ON?
The high pressure of IZZI's DMS Steamer ensures trustworthy and natural cleaning of all surfaces,especially those that are large or feature a complex shape. How can I thoroughly purify a mattress, rug or curtains and strip them of bed bugs that are nestled into their fibres without calling and paying for a professional who uses chemical products? How can I reach the small gaps found in wooden furniture? How can I relieve those suffering from pulmonary or mucus membrane diseases whose symptoms are worsened by the presence of dust mites or animal allergens in their fur? How to sanitise hotel receptions, restaurant tables and public places such as nurseries and shops, etc. With IZZI, the steam becomes a must-have for a healthier environment. Propelled up to 104 km/h and reaching a temperature of up to 150°C, its exceptional energy levels provide it with unique disinfecting abilities. A natural steam that has the benefit of being a sustainable alternative to chemical products. The Surface-Guard that comes with IZZI must be attached directly to the DMS Steamer when being used on surfaces.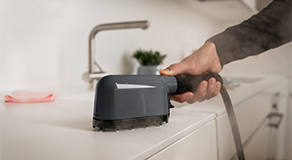 Countertops
IZZI disinfects kitchen countertops and surfaces found all over the home, provided that they are resistant to humidity and heat.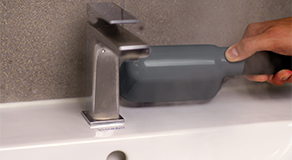 Mineral surfaces
IZZI disinfects ceramic and tile surfaces.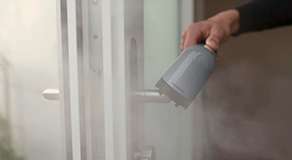 Metal surfaces
IZZI disinfects stainless steel, steel and aluminium surfaces.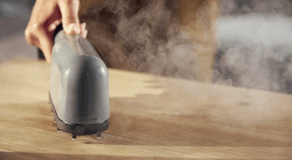 Wooden surfaces
IZZI disinfects wooden surfaces such as furniture and countertops but also chopping boards.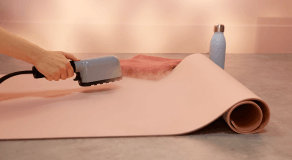 Plastic surfaces
IZZI disinfects plastic, PVC, epoxy, polyester and rubber surfaces.
IZZI purifies all fabrics found in the home
Fabrics such as clothing are laden with viruses, bacteria, allergens and other pesty insects. The majority of everyday fabrics can be cleaned regularly in the washing machine: tea towels, clothes, bed linen, pillow cases and any other type of clothing that we wear. But what about the more delicate fabrics and those that we cannot put in the washing machine? We disinfect them quickly, simple and naturally! From cushions, sofas, armchairs, curtains, pillows and headboards, to delicate underwear, pushchairs, baby toys, motorbike helmets and scarves, etc., the list is endless! Thanks to IZZI's DMS Steamer and its exclusive accessory, the Textile-Guard, which is attached directly to the DMS Steamer, the DMS is ideal for disinfecting all fabrics, ensuring the fibres are thoroughly refreshed and unpleasant odours are removed.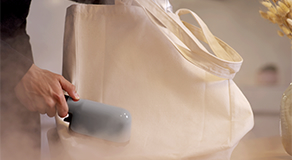 Resistant fabrics
IZZI disinfects all types of resistant fabrics: cotton, denim, aramid and linen etc.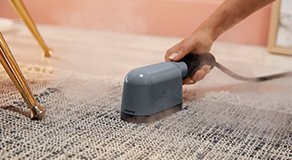 Delicate fabrics
IZZI also disinfects delicate fabrics such as wool, silk, angora, viscose, satin, microfibre suede (polyester or polyamide), synthetic fabrics and sportswear.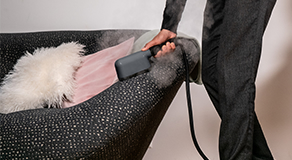 Dark-coloured fabrics
IZZI is ideal for dark-coloured fabrics thanks to its DMS which prevents any risk of shiny marks from appearing and preserves the colour.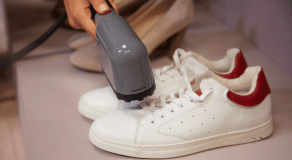 Sports equipment
IZZI disinfects fabrics used for sportswear and acts as a freshener as it significantly reduces unpleasant odours trapped in the fibres. Your belongings will smell as fresh as a summer's day once again!
How does IZZI work?
IZZI owes its performance to its powerful steam generator, its hygienic DMS steam, its DMS Steamer with an aluminium soleplate and to each and every one of its accessories which have been specially designed to simplify your life and make caring for your home easy and enjoyable. For example, it is equipped with two specific accessories depending on what you are looking to sterilise: the Textile-Guard and the Surface-Guard. What's more, its soleplates are directly attached to the DMS Steamer, allowing it to protect the surface being treated. This trustworthy and handy device evenly disinfects smooth, porous and fibrous materials in less than 5 seconds. All that is required is for you to touch the material directly using the DMS Steamer with the corresponding guard attached. Horizontal or vertical, the way in which you disinfect your items is up to you. Its power and speed allow it to reach all corners of an object and penetrate deep within the fibres in record-breaking time. IZZI's water filter cartridge system located on the removable water tank helps to avoid the build-up of tartar and limescale, allows you to use water straight from the tap and provides a simple, effective and continuous solution to disinfecting.
How does the IZZI hygienic steamer eliminate daily discomforts?
Our modern world is facing unprecedented sanitary challenges, with both advantages and disadvantages. Thanks to IZZI, it is now possible to improve cleanliness in our daily lives and reduce our exposure to infectious diseases and allergens. IZZI's steam is a natural solution to disinfection which also helps to reduce the negative effects that chemical products have on our health and the increasing resistance to antibiotics and antifungal treatments. Its DMS is a safe and environmentally-friendly solution.
All households are at risk, especially those with family members who suffer from respiratory problems, allergies, asthma, are vulnerable or sensitive to microorganisms and allergens that are present in dust, on our furniture and on our personal belongings. More than ever before, the need for a healthy home - your very own protective cocoon, per se - is of paramount importance.
Challenging cleaning of certain objects or surfaces, especially large surfaces with complex shapes, becomes easy thanks to IZZI and its DMS steam. Thoroughly disinfecting and refreshing a pushchair or a surface is now possible and doesn't require chemical products nor incur costly expenses. It's simple, practical, quick and trustworthy!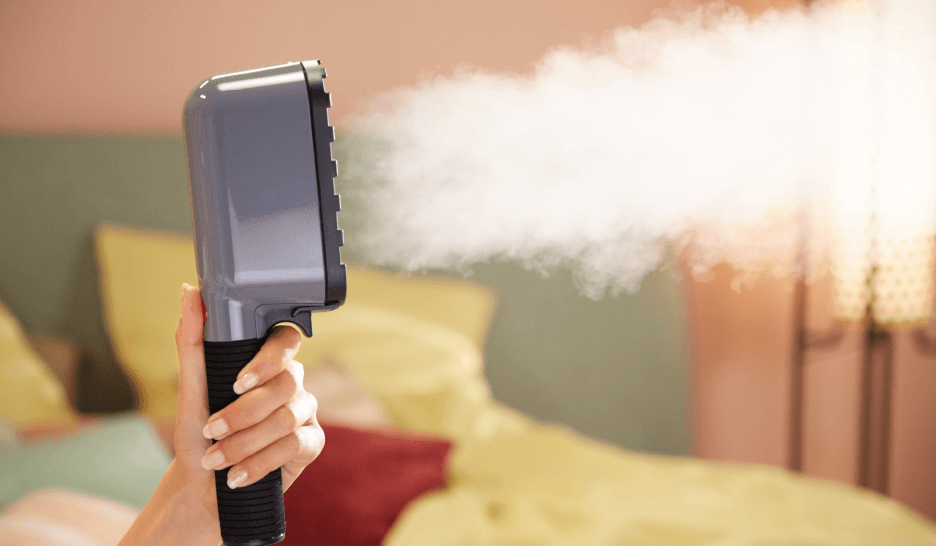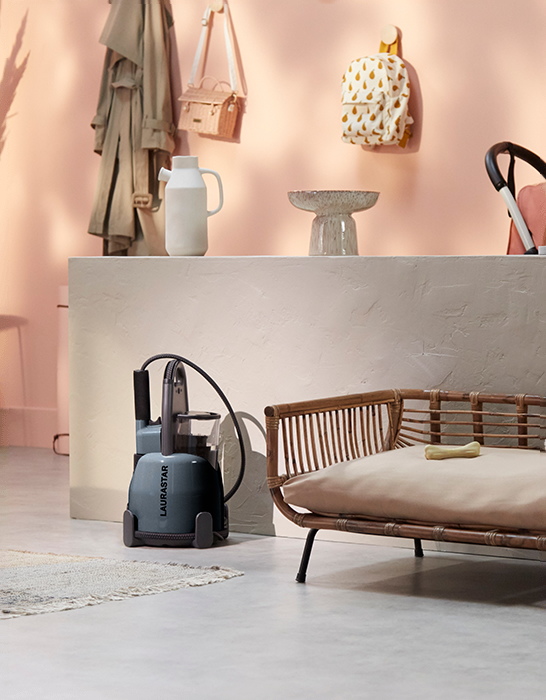 FIND A STORE
Not sure what's right for you? Come try out our products in store!

Find us